What sets Absolute Waste apart from the rest?
We are fully compliant with EU waste legislation, ensuring high rates of re-use and re-cycling wherever possible!
Absolute Waste is Eco-friendly with a zero landfill policy. We are as sustainable as possible!
You will get a hassle free and friendly, helpful service from us.
No job is too big or too small for Absolute Waste, just call today for a free no obligation quote and we will do our best to help you.
Get your garden cleared of your surplus, redundant or unwanted garden waste material quickly and professionally.
We will get the smallest or most complex residential clearance job done with a minimum level of fuss.
We pride ourselves on our first class home and residential waste clearance, recycling and disposal services.
To find out more, call our friendly team on 0203 7946046 or get in touch with us via our contact page.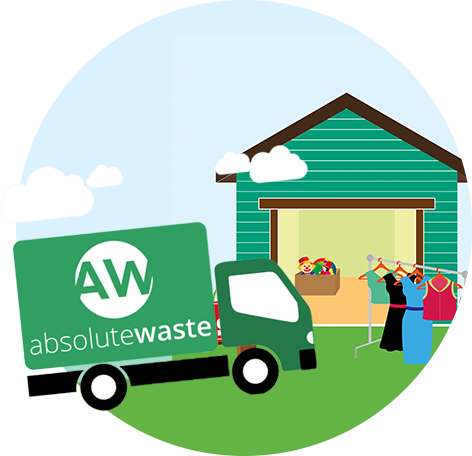 We are the Residential Clearance Specialists!
As Home and Residential clearance specialists, we have the most experienced and friendly team, all experts at getting the job completed with little fuss!
Our aim is to always provide an Ecologically -Sound Home Clearance Service
Priding ourselves on our Eco-friendly clearance service, we are always doing our best to clear everything from your property or home in a sustainable manner.
This means that we keep a close eye on re-use and re-cycling.  Our commitment to looking after the environment drives our approach, resulting in a sound waste clearance and re-use commitment.
In this way we can help both you and your family to look after the future for all our children's and grand-children's sake!
Your Local Home and Residential Clearance team
We are your local friendly and sustainable minded team, helping to look after the environment for all our sakes.
At Absolute Waste we make sure that your Residential Clearance job takes place just when you need it done. We do this, time after time, on-time and on budget, giving you an efficient, courteous and cost-effective clearance of your residential belongings such as furniture and fittings.
Contact us today for a free no obligation quote!
If you would like to have a friendly discussion with one of our team, we can provide you with useful advice regarding your house clearance needs. We always worry about re-cycling, waste management and re-use so just contact us today and we will be happy to help you out.
We are the local professional house and residential clearance specialists you need in the local area and are waiting for your call, so don't be shy if you need any help!
So give Absolute waste a call and let us do all the hard work for you our friendly 2 man clearance teams will load all your unwanted rubbish onto the truck.