Here at Absolute Waste we will make sure that your Office Clearance job is done on-time and on budget every time. We will transparently provide you with both an efficient and cost-effective removal of your unwanted office equipment, furniture and fittings!
What really sets Absolute Waste apart from all the rest you may ask? Here is our response:-
The resale value of any office items cleared is always factored into our prices so that you know where you stand!
We are of course naturally Eco-friendly with a zero landfill policy!
We are fully compliant with EU waste legislation, aiming to ensure high rates of reuse and recycling where possible!
We provide a hassle free service with everything provided under one roof
We can get even the most complex projects done with the minimum of fuss
Whether you need a full office clearance or just need to clear a few unwanted office items, we are here to help you.
Our full range of Office Clearance services makes it easy for you to get your office cleared of all surplus, redundant and unwanted waste material.
Our service includes all Office Furniture and IT equipment removal, re-use, recycling and disposal, WEEE recycling, Secure data destruction (electronic and paper), Strip out and of course, dilapidations.
First class rubbish clearance, recycling and disposal.
Project management of your Office clearance if required.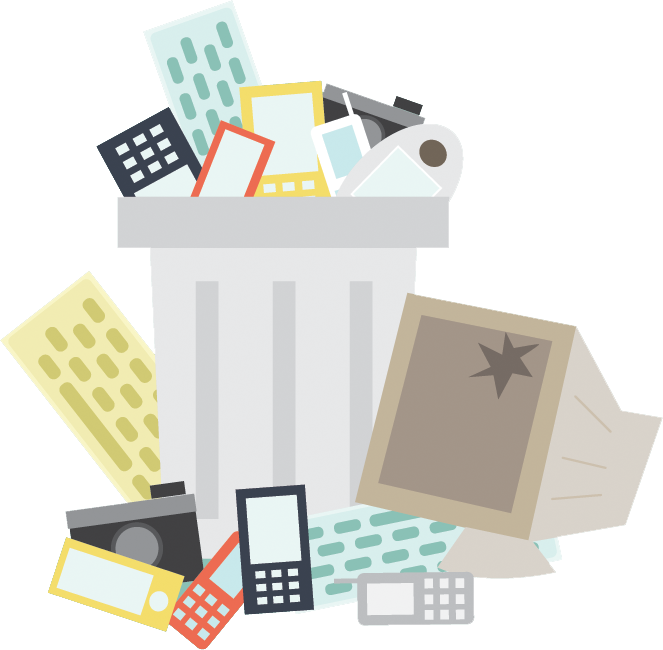 We factor everything in
For every office or commercial industrial clearance Job, Absolute Waste will always factor in the value of assets such as high quality furniture, and IT equipment into our quote potentially saving you money!
To find out more, call our friendly team on 0203 7946046 or get in touch with us via our contact page.
Get in touch with the waste management and clearance experts today!
For an initial discussion and free friendly advice regarding your waste clearance, re-cycling, waste management and re-use requirements just contact us today and we will be happy to assist you. We are the professional clearance and waste management specialists you have been looking for!
Commercial and Office Clearance Experts
Because we specialise in commercial office clearances, our procedures and experienced teams are true experts at getting the job completed cost effectively and efficiently.
With Absolute Waste you can fulfil your duty of care. All UK companies have a legal responsibility to act in accordance with the EU Waste Framework Directive. We manage the whole process from start to finish, ensuring complete compliance for your peace of mind.
An Ecologically Friendly Clearance Service
Our Eco-friendly service means that we will clear everything in a sustainable manner.
This means always keeping an eye on re-use and re-cycling. Our environment friendly results are due to our unwavering commitment and focus on the job of ecologically sound waste clearance. This is of course very different to most recycling and waste clearance companies that normally only focus on recycling.
Helping many clients as their local clearance and waste contractor
Clearing out large offices may seem to be a daunting task yet fear not for we have helped many clients to clear large sites, such as disused offices, head offices, school, college and university campuses and large manufacturing facilities alike.
We will always assist with all aspects of the job from start to finish, including planning, project management, asset audits, relocation and storage too.
At Absolute Waste we are registered with the environment agency ensuring all your office clearance is taken to one of our trusted waste transfer stations where 88% of waste is recycled and diverted from landfill.  We also make sure all electrical items are disposed of in the correct way.
Electrical appliances need to be taken to an authorised waste transfer station as it cannot be disposed of with general waste.  Absolute Waste takes the headache out of this for you as we ensure all our electrical items taken are safely disposed of in compliance with rules and regulations.